Professional Interior Decorating Services
Luxury Spaces is Kansas City's top choice for accessories, window treatments, furniture, paint colors and more for your home.
At Luxury Spaces, our experienced designers work with you to create a unique vision for your home. We start by getting to know your style and needs, then help you select the perfect accessories, window treatments, furniture, paint colors, and more. Our wide range of products and services means that we can provide a one-stop solution for all your home decorating needs.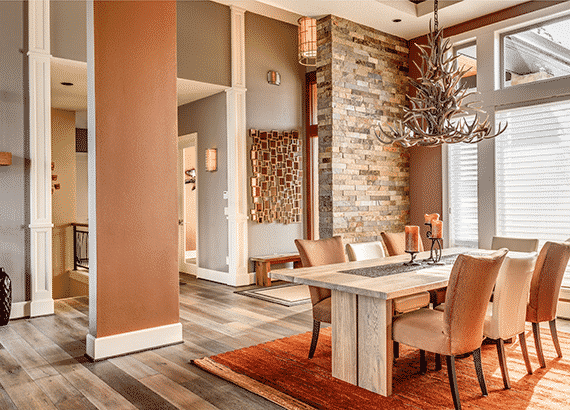 High-Quality Decorating Services in the Kansas City Metro Area
At Luxury Spaces, we believe that your home should reflect your unique style. That's why we offer interior decorating services for residential spaces in the Kansas City area. Our team of professional decorators will work with you to create a space that is both stylish and functional. We'll start by getting to know your vision for the space, and then we'll help you select the perfect furniture, artwork, and accessories to achieve that vision. We also offer design services for living rooms and kitchens, bathrooms, and outdoor spaces. So whether you're looking for a complete makeover or just a few finishing touches, we can help you create the home or office of your dreams.
Hiring an interior decorator is a great way to achieve the home of your dreams. The interior decorators at Luxury Spaces are experienced in helping homeowners select the right furniture, accessories, and paint colors to create a stylish and inviting space. They will also work with you to stay within your budget and can even provide guidance on do-it-yourself projects.
Interior Decorating Services
Our interior decorating services can be used to update an existing space or to create a completely new look. Whether you need help selecting furniture and accessories or you simply need someone to hang paintings and mirrors, a professional decorator will be able to provide the services you need. In addition, decorators can also offer advice on color schemes and floor plans. If you're not sure where to start, a decorator can help you figure out what will work best for your space.
Whether you're planning a complete home makeover or simply want to refresh a few rooms, interior decorating services can help you achieve the results you desire.
Color Consultations
At Luxury Spaces, our Color Consultation services in Kansas City are designed to provide you with professional guidance in selecting the perfect colors for your home or commercial space. Our team of experts takes a comprehensive approach to color selection, analyzing factors such as lighting and architectural features to ensure that every hue complements your unique style and space.
We understand that choosing the perfect color can be intimidating, which is why we take the time to listen to your needs and preferences to develop a personalized color plan that reflects your vision. With our Color Consultation services, you can rest assured that your space will look stunning and cohesive, elevating your interior design to the next level. Trust Luxury Spaces to help you make color decisions for your home with confidence.
Furniture Selection
At Luxury Spaces, our team of professional designers and furniture consultants have a comprehensive knowledge of different furniture styles and trends. Upon consultation, we take into consideration your lifestyle, preferences, and budget, to curate a personalized range of furniture options that cater to your individual needs.
With an extensive collection of furniture from our partner brands, we are confident we can provide quality pieces that are perfectly suited to your space. Our goal is to help you create the luxurious and comfortable living space that you deserve. Skip the stressful trip to the furniture store and trust us to deliver the pieces you've been dreaming of that will perfectly complement your home.
Window Treatments
When it comes to window treatments in Kansas City, Luxury Spaces is the name to trust. Our team of professionals is dedicated to combining style and functionality to meet your unique needs. From the initial consultation to the final installation, we work with you every step of the way to ensure your complete satisfaction. Whether you're looking for custom draperies, blinds, or shades, we offer a wide range of options to suit any style or budget.
With years of experience in the industry, our expertise and attention to detail set us apart from the competition. At Luxury Spaces, we believe that no space is complete without the perfect window treatment, and we're committed to helping you achieve the look and feel you desire down to the last detail.
Whole Home Decorating Services
If you're looking to overhaul your home's style and decor, turn to the experts at Luxury Spaces in Kansas City. Our whole home decorating services offer a comprehensive approach to transforming your space into a luxurious and functional haven. From the initial consultation to the final installation, our team of seasoned designers will work closely with you to ensure that your vision comes to life exactly as you imagined.
We pride ourselves on our attention to detail and our ability to create customized solutions that meet your unique needs and preferences. With Luxury Spaces, you can trust that your home will be in good hands. Contact us today to schedule a consultation and start the journey toward your dream home.
When to Hire A Professional Decorator
As a homeowner, taking on home improvement projects can be both exciting and daunting. While there are some projects that can be managed with some elbow grease and a little know-how, there are others that require the eye and expertise of a professional decorator. So when is it time to call in the professionals?
If you're unsure of color schemes and furniture layouts or simply lack the creativity to execute your vision, hiring a professional decorator is a wise choice. And in Kansas City's thriving home improvement market, there are plenty of experts who can work with you to make your dream space a reality. With a designer's trained eye, you'll soon have a beautifully finished project that you can be proud of for years to come.
Call Us Today for A Free Consultation
Luxury Spaces is the ultimate destination for anyone interested in transforming their home into a gorgeous and well-appointed haven. Our team of professional interior decorators is dedicated to providing personalized and attentive design services that cater specifically to your individual preferences and aesthetics.
Whether you are looking to remodel an existing space, or are in the process of building a new home, we are here to guide you every step of the way. Call us today to schedule your free consultation and see firsthand how we can help turn your interior design dreams into a stunning reality.